At the start line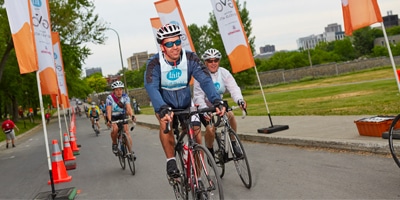 The start will be staggered from 7 a.m. to 9 a.m
Since the Tour takes place mainly on streets open to motor traffic, cyclists will leave in small groups in order to ensure the smooth flow of traffic along the route and increase the comfort of all road users.
On the route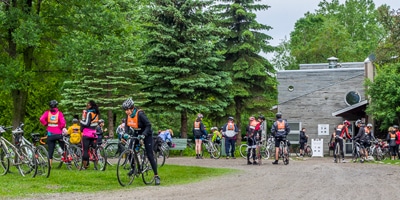 Depending on your energy level, choose to continue on the 80-km route or the 100-km route.
The route is marked off by yellow road signs, which will also indicate the presence of different service points, approximately every 20 km (water and toilets), and the lunchtime rest stop.
Lunchtime rest stop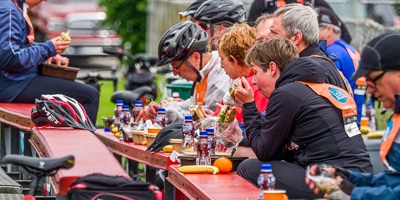 Midway, take time to relax at the lunchtime area… so you can spring back into action! Enjoy your lunch, included in your registration.
Offered services: water, toilets, first aid and mechanical assistance.
The last kilometers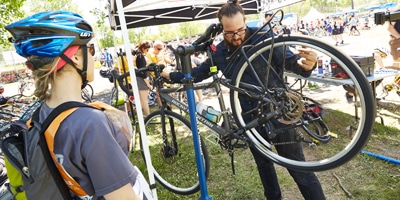 To integrate into the classic route of the Tour de l'Île de Montréal on closed-off streets and enjoy the rest areas services, you will have to reach a specific intersection at a specific time. You will find this information in the notice sent by mail.
Offered services in the rest areas: water, toilets, first aid, mechanical assistance, Bikeinfo and food trucks.
Enjoy your CHOCOLATE MILK at the first or second rest stop (to confirm).
DESJARDINS marks your progress and encourages you to keep going with a smile on your face!
Entertainment as of 11 a.m.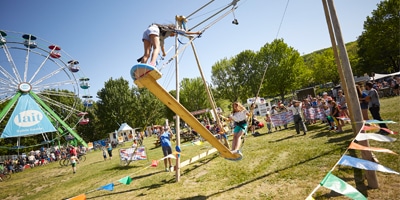 Enjoy our partners' activities at the finish site:
Pick up your CHOCOLATE MILK
Soar up into the sky aboard the Grande roue LE LAIT
Share your photos by using the #MTLmoments
And many other activities, mainly those of our partners: DESJARDINS, SPORTS EXPERTS, DUPROPRIO and KIND snacks.
Feel like a snack after the Tour?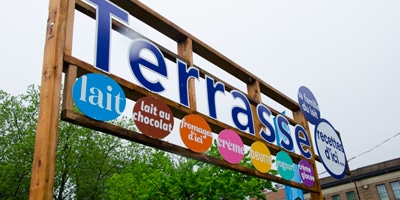 Starting at 11 a.m., treat yourself to Recettes d'ici at Jeanne-Mance Park. Gourmet menu to come. Inspiration: recettesdici.com
Ready for your Tour?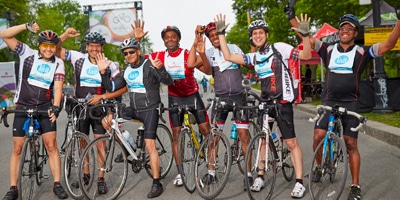 Once registered, you will receive a notice and your bib by mail. Your bib will give you access to your lunch at the lunchtime rest stop or the finish site, a choice you make when you register.
In case of problems along the route? Our volunteer mechanics and first aid will be there to help you. Unable to complete the route? Relief vehicles will drive you to the finish site. To obtain information? Go to Bikeinfo in the rest areas or at the finish site.
Itinerary: 80 or 100 km Découverte
Preliminary route subject to change. Start: Avenue du Parc.
By April 27, register and enjoy the best rate of the season!
A fun family activity to stay active
Free for kids 12 and under
Starting at $20 for kids 13-17 years old
Rates
You win by booking early! Register now
Early Registration

January 1 to April 28, 2020

Regular rate

April 28 to June 3, 2020

Last minute

As of June 3, 2020

Combined Offers
including
Metropolitan Challenge
13-17 years old

$20

$20

$20

$40

Adult

$58

$72

$86

$115

Vélo Québec Member

$49

$61

$73

$98
Info-bib
Registration
from May 29 to June 1 (noon)
Mailing
May 7 1
May 21 1
May 28 2
May 29 2
June 1 3
1 All destinations 2 Canada only 3 Québec only
Note: Expect a reception delay of a week after the mailing date. For online registration made after the date of the last mailing, the documents can be collected at La Maison des cyclistes (until the day previous to the event) or at the starting point of the event (the morning of the event).
You may be interested in:
FAQ
Find all the answers to your questions relating to the events of the Go Bike Montréal Festival.
Info-Circulation
Learn all about traffic and how to get to the Tour de l'Île starting point.
Bike as a group
Form a group of 15 people or more and benefit from an attractive registration rate.