At the start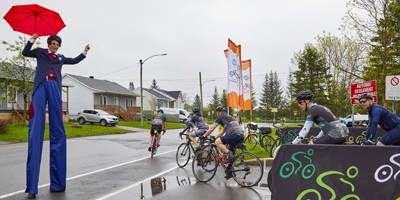 Start between 7 a.m. and 10 a.m. and bike at your own pace.
This is an untimed event!
Start site: École secondaire Louis-Philippe-Paré in Châteauguay
On the route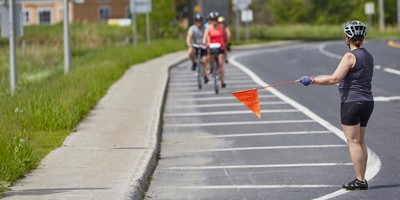 Depending on your level of fitness or energy of the day, choose the right itinerary for you – 50 to 150 km.
Services included: route signage, on-road professional support (mechanical and first aid) and relief vehicles.
Rest areas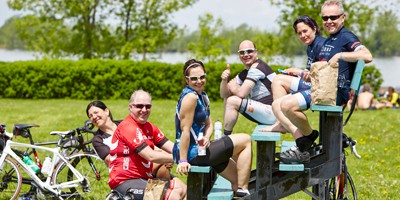 Between 10 a.m. and 2 p.m., take a break at the lunchtime rest area. 
Offered services: lunch box, water, toilets, first aid services, mechanical assistance.
You can also stop at the second rest area after the lunch.
Enjoy the après-vélo experience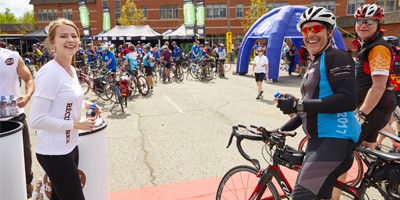 Unwind at the bistro to end this epic cycling day on a high note! 
Pick up your CHOCOLATE MILK
Also on the program: souvenir gift, musical entertainment and our partners' activities.
Ready for the Challenge?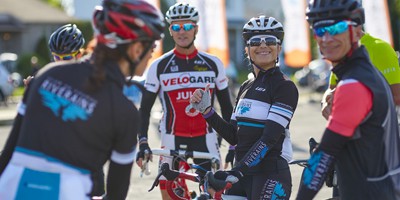 Once registered, you will receive a participant's booklet and your bracelet by mail. Your bracelet gives you access to your lunch box at the lunchtime rest area or the finish site, a choice you make when you register. On the 50-km route, the lunch box will be distributed only at the finish site.
A few days before the Challenge, you will receive an email with the final update of the itineraries, available on Ride with GPS.
In case of problems along the route? Our volunteer mechanics and first aid will be there to help you. Unable to complete the route? Relief vehicles will drive you to the finish site. To obtain information? Go to the information booth at the start/finish site.
Itineraries: 50, 75, 100 or 150 km
Preliminary route subject to change. Start: Châteauguay
By April 27, register and enjoy the best rate of the season!
A fun family activity to stay active
$20 for kids 17 and under
Rates
You win by booking early! Register now
Early Registration

January 1 to April 28, 2020

Regular rate

April 28 to May 28, 2020

Last minute

As of May 28, 2020

Combined Offers
including
VQ Membership
13-17 years old

$20

$20

$20

N/D

Adult

$58

$72

$86

$108

Vélo Québec Member

$49

$61

$73

N/D
Combined Offers: more than one event
Combined Offers
more than one challenge
(price per challenge)
Combined Offers
including TDÎ Express
Combined Offers
including TDÎ Découverte
13-17 years old

$20

$35

$40

Adult

$58

$97

$115

Vélo Québec Member

$49

$82

$98
Info-bib
Mailing
May 7 1
May 21 1
May 22 2
May 25 3
1 All destinations 2 Canada only 3 Québec only
Note: Expect a reception delay of a week after the mailing date. For online registration made after the date of the last mailing, the documents can be collected at La Maison des cyclistes (until the day previous to the event) or at the starting point of the event (the morning of the event).
overview
Overview of the Metropolitan Challenge
#Defimetro – Share your experience
Ride as a certified
cycling escort
Get your registration for free in exchange of your services.
Need a ride to get
to the start?
Choose the shuttle service option when you register. Round trip: 30 $ (limited seats). 
Plan
your weekend
Extend your stay in the region of Châteauguay. See the Bienvenue cyclistes! certified accommodation offer.