Souvenir photo of your Tour
Track down your picture taken at the chocolate milk Photo Zone.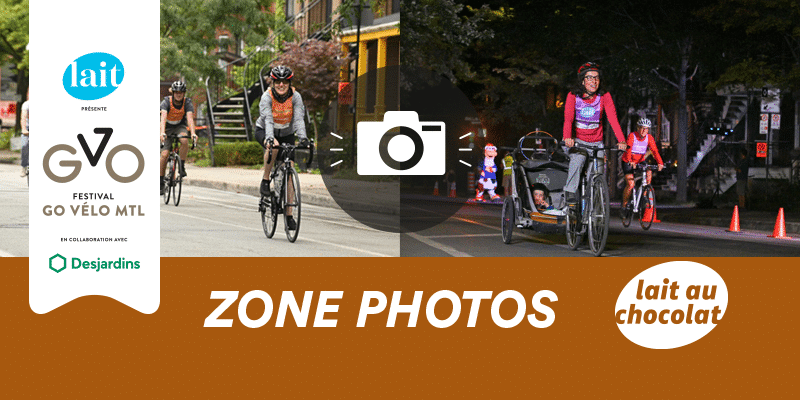 Rendez-vous and schedule for the day

Friday, August 27, let's get out our colourful lights and costumes and participate in a spectacular parade of cyclists of all ages ready to joyfully illuminate the Montréal night. A magical evening bike ride under the stars through car-free streets!
Start at the agreed time
On Friday, August 27, 2021, show up at the time you selected when you registered, at one of the 8 access points (identified on the map below).
Departure is between 8 p.m. and 9:30 p.m. It is important to respect the time selected when you registered in order to comply with current public health measures. Please refer to your transaction confirmation or to your client account.
You received your bib by mail. Wear it on the night of the Tour, this will be your passport for accessing services.

No, you're not mistaken… The year 2020 is actually written on your bib. For environmental reasons, it will be your passport for this year's Tour. Use your creative touch to update it to 2021!
Plan your route to your start location
Using the Google map of the Tour la Nuit route below:
1 – Click on the access point you selected when you registered; 2 – Click on the route symbol 

and a Google map will open; 3 – Indicate your start address (the destination address will already be indicated) and select the bike symbol. Your route for getting to the access point will appear. This route, optimized by Google, may not take in account bike paths and bikeways.
Using the Route verte interactive map:
1 – Click on the access point you selected when you registered on the Google map and copy the name of the access point (name of park or intersection); 2 – Click on the following link to create a route on the Route verte interactive map; 3 – Paste the destination address (access point) as well as the start point in the appropriate boxes. Choose the location closest to the access point and click on "Get directions". The route generated will be optimized for cyclists automatically.
Metro stations accessible to bikes:
To find out which subway stations are accessible to bikes on the way to and from the Tour la Nuit, visit the Info-Circulation page.
Tips and tricks for smart cycling

Before you leave, here are some practical tips and a checklist of things to bring on your Tour.
Bicycle in good condition
Before leaving, make sure your bicycle is in good condition: tires are well-inflated, your bike parts are well-adjusted and well-oiled (brakes, chain, gears) and your accessories (baggage rack, basket, bottle holder, pump) are securely attached to your bike.
Comfortable clothing
Also bring raingear and a windbreaker. Put everything in a plastic bag to slip into a bike saddlebag, basket or bag securely attached to your baggage rack. Avoid backpacks.
Checklist
Don't forget: your bib; snacks; COVID-19 kit (hydroalcoholic solution, disinfectant wipes, protective mask or face shield for places where social distancing is not possible); raingear; a piece of I.D.; water bottle. Help us promote eco-friendly biking.
Glow under the stars
At night, all cyclists look grey! The Highway Safety Code stipulates that a bicycle must be equipped with the following reflectors: white (at the front), red (at the rear and on the back wheel) and amber (on the front wheel and the pedals). And you must also have an active lighting system (white headlight and red light at the rear).
A luminous gift at the Tour la Nuit: To allow you to shine under the stars, THE MILK and DESJARDINS offer you a flashing bike light at the 2 access points with services!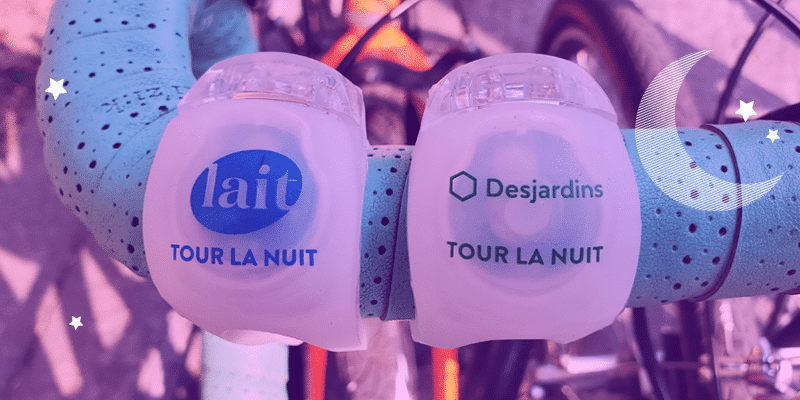 Info-Circulation – Weekend of August 27 and 29, 2021
To better plan your trips on the evening of the Tour la Nuit and get information about access to metro stations, consult our Info-Circulation page.
Safety guidelines and services offered

A cycling event involving so many cyclists requires a certain amount of caution. Bicycle traffic usually flows smoothly, but slowdowns can occur. Pedal at your own pace and watch out for road imperfections. Pedestrians are allowed to cross the streets, so if our volunteers ask you to give them right of way, please be courteous.
Signal your intentions
Using your arm or a loud voice, indicate your intention to stop, turn or pass (always on the left). If you wish to stop, avoid doing so abruptly. Get off the route quickly and move to the side of the road.
Protect your head
You are advised to wear a helmet. A well-adjusted helmet does not slide forward onto your forehead or back onto your neck; the front and back straps meet, and the chin strap is not too tight.
Cycling in the rain
Brakes are less effective on a wet surface. Reduce your speed and give yourself more room to stop. In case of heavy rain, it is best to take shelter and wait it out.
Cycling with children
Children in a seat or a trailer: Firmly attach the straps provided for this purpose and ensure that all children wear a helmet. Stop at each rest area to allow children to stretch their legs. Bring along raingear and don't allow any objects in their hands (bottle, toy, etc.).
Children with their own bikes: All children under 14 must be accompanied by an adult. Ensure that children bring along a piece of I.D., a snack and the telephone number of a relative or friend. Point out the INFO booth as a meeting place at access points with services.
In case of problems along the route
In addition to the Sports Experts mobile team of mechanics, volunteers assigned to bike mechanics and first aid are there to help you on the road.
Unable to complete the route? Due to the particular context of the 2021 edition, there will be no relief vehicles to drive you back to your starting point. That said, it is possible to leave the route at any time to shorten your ride.
Access points with services
On your 22 km route, you will come across two access point with services located in La Fontaine and Champdoré parks.
You can stop for a short break and enjoy the following services: distribution of flashing bike lights, distribution of chocolate milk, INFO booth to answer your questions, water, toilets and first aid. Please note that there will be no food truck.
Treats for Tour participants

During the Tour la Nuit, our valued partners will be there to offer you little treats.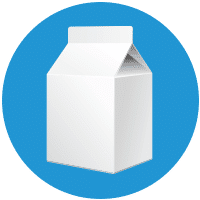 Pick up your chocolate milk: rich source of proteins, carbohydrates and electrolytes, offered by the Producteurs de lait du Québec at the 2 access points with services.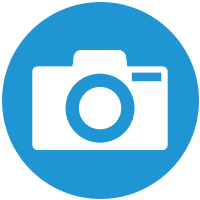 Show off your best smile at the chocolate milk Photo Zone located near Laurier Park. Be sure to remember what time you were there in order to track down your photo on August 31.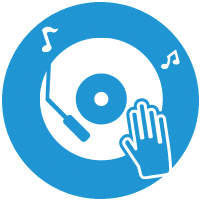 Groove to the beat as you bike with musical entertainment sponsored by Desjardins in 2 locations along the route. A beautiful Friday evening where cyclists take the fun to the streets!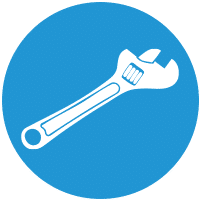 The Sports Experts mobile team of mechanics will take care of getting your bike back in good condition in case of minor mechanical problems. Enjoy your bike and have a good ride!
Frequently asked questions
Have questions about Go Bike Montréal Festival events? Read the Frequently Asked Questions section for answers.
Health measures

Vélo Québec is taking the necessary precautions to ensure the health of all participants. It is also the responsibility of each participant to respect the Public Health measures in effect at the time of the event.

If you develop symptoms before the event, please stay home.
If you develop symptoms during the event, you will be asked to leave the premises and go directly home, where you will have to fill out the Symptom Self-Assessment Tool or call the COVID-19 line at 1-877-644-4545.
Reminder of health measures
Respect for social distancing at all times.
Disinfection of hands is mandatory. Handwashing stations will be available to participants on the site, in every service area (INFO booth, toilets and refreshment booths, etc.).
Wearing of a face mask is mandatory:

in waiting areas (INFO booth, toilets and refreshment booths, etc.);
during interactions with mechanical service, first aid or support personnel;
inside buildings;
when two-meter distancing cannot be respected.

One-way lines in waiting areas.
Other measures implemented by Vélo Québec
Regular disinfection of toilets.
Regular disinfection of frequently touched surfaces.
Wearing of personal protective equipment by service personnel.
Need to rent a bike?
Tour la Nuit, easy with BIXI! Bike the Tour on a regular BIXI for 4 hours or an electric BIXI for 1 hour and pay only $5! If you have any questions, please contact BIXI customer service.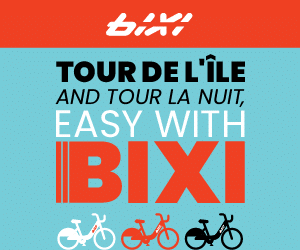 Thank you

Many thanks to the volunteers for their generosity and friendliness. Special recognition to the following organizations: Centre ABC – Centre d'action bénévole et communautaire Saint-Laurent, Programme UQAM-MIFI – Francisation et intégration des immigrants, Centre Lartigue, MIFI – Centre d'éducation interculturelle et internationale du Cégep Marie-Victorin, Maison des jeunes Bordeaux-Cartierville, CJE de l'Ouest-de-l'Île, Trajet OJA, Centre d'éducation aux adultes d'Outremont.

Many thanks as well as to Montrealers for their warm hospitality in the following boroughs who welcome the Tour la Nuit: Le Plateau-Mont-Royal, Rosemont-La Petite-Patrie, Villeray–Saint-Michel–Parc-Extension, Ahuntsic-Cartierville.