Thousands of Quebecers now use their bikes for getting to school or work, shopping and outings. This reality stems from years of efforts to have cycling recognized as a bona fide mode of transportation. After promoting the bicycle as touring and recreational vehicle and spearheading efforts to develop bike paths and gain metro access, Vélo Québec started developing projects in the early 90s, and more intensively in the early 2000s, to promote the use of the bicycle for transportation purposes.
As early as September 1992, Opération Dring Dring, presented as part of the World Cycling Conference held in Montréal, was encouraging people to bike to work. The event was reintroduced from 2000 to 2002 under the name Jour V, and then in 2003, extended its activities over a full year as Operation Bike-to-Work. It played a major role in encouraging the general public and companies to choose biking as a mode of transportation. The OBW team reached hundreds of companies annually – peaking at 1,800 in 2011 –, presented about 30 workplace workshops and discussion groups, in addition to making about 20 visits to assess bicycle parking needs. In early June of each year, Bike-to-Work Day, presented downtown as part of the Go Bike Montréal Festival, draws a huge number of participants.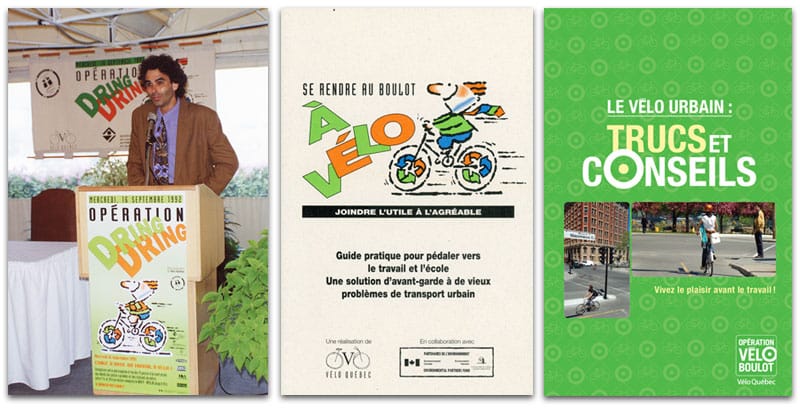 While Operation Bike-to-Work is aimed at adults, the program On the move in the community – formerly known as On the move to school – targets mainly at children. And for good reason! In 1970, about 8 out of 10 students walked or pedaled to school, while at the turn of the millennium, no more than 3 out of 10 did so. Some schools even prohibited students from biking to school, deeming the practice too dangerous! In response to these absurd bans, the program grew rapidly, proposing reduced car circulation near schools as well as safe access for pedestrians and cyclists in the neighbouring area, in addition to generating school travel plans and bicycle parking assessments. Since 2005, On the move in the community has been implemented in over 1,300 primary and secondary schools in 17 administrative regions of Québec, reaching more than 700,000 young people and their parents. The result: a 4% to 18% increase in the number of students commuting by foot or bike from the first year the program was implemented.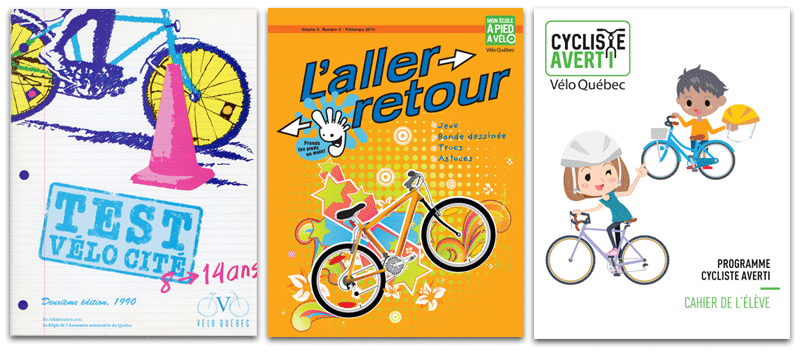 According to Suzanne Lareau, President and CEO of Vélo Québec, all of these efforts slowly but surely paid off: "Around 2007-2008, there was suddenly a boom in daily urban cyclists in Montréal. At rush hour, the bike paths became very busy." This phenomenon grew in 2009 with the advent of the popular Bixi, which confirmed Montréal's status as a city where people commute on two wheels. Another sign of the times was in the fall of 2013, when the four parties running in the municipal elections all took part in a debate about the place of biking in our society.

And to keep the conversation going, in June 2010 and September 2015, Vélo Québec organized two symposiums devoted to active transportation, where urban planning and transportation specialists, public health and education stakeholders, municipal representatives, university researchers, consultants and involved citizens – cyclists or not – shared their approaches and experiences.
The 2015 symposium marked the launch of the Bicycle Friendly Movement, which encourages communities and organizations to make biking a viable transportation and recreation option for everyone. It offers them tools and services to achieve these objectives and recognizes actions taken by granting bronze, silver, gold, platinum or diamond certification to communities and organizations promoting biking. The first certifications were awarded in May 2016.

There is still much work to be done to make biking the most popular mode of transportation. In this regard, the desired increase in bike travel, particularly in urban areas, will depend largely on the development of adequate, efficient and safe infrastructures.